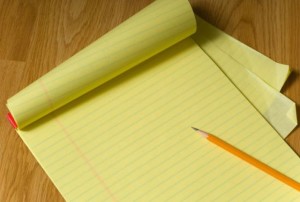 If you've made a Last Will and Testament, congratulations!* You've defeated Procrastination, the sworn enemy of preparedness. Covering all the bases for your family is an important step in making sure they have the information they'll need the day after you die. Writing a will, creating trusts, financial strategies, life insurance – whatever your situation, it's just good planning to document your financial status.
But it's not enough.
You simply cannot put everything your family needs to know in a will. Single, married, or divorced, it doesn't matter. Wills, trusts, and other legal documents are not designed to communicate some of the most important information your family needs.
Disagree? Try answering these questions:
Where IS the original of your will? What is the name of the lawyer who drew it up?
Are there life insurance policies? If so, where are they and who are the agents?
What are your assets and income streams? Debts and liabilities?
How much money will your partner or children have to live on after you're gone?
Who really gets your grandmother's antique mirror?
Do these sound like simple questions with easy answers? Ask a friend how it feels to search high and low through their parents' home looking for a will that's nowhere to be found. Talk to spouses who, in the middle of paralyzing grief, suddenly have to figure out if they have enough money to live on. Try settling an escalating argument between two otherwise civilized siblings who both believe they were promised their father's watch.
Each is a very real and painful scenario. But with a little planning and some open communication, these and other disasters can easily be avoided.
In addition to wills and insurance policies and bank accounts, you need a living, breathing, evolving document that requires updating for the rest of what will hopefully be a long, illustrious, and love-filled life. Sure, the subject matter can be initially unsettling, but the reward is enormous. As part of your legacy, you'll be supporting and guiding your family at one of the most difficult stages of their lives. What could be more rewarding than that?
Start talking now. Begin the conversation. Write it all down. A legal pad works, but a book you keep in easy reach is even better. Don't let Procrastination have the last laugh. Click here to get your copy of Cell Phones Don't Work in Heaven today!
*If you haven't made a will, why are you reading this? Go do it! Then come back and read the rest.